How to Make Money on eBay – 7 Easy Tips to Make Money on eBay
How to Make Money on eBay – 7 Easy Tips to Make Money on eBay
---
EBay is one of the pioneers of the online marketplace that has become a hub for online sellers to make money online.
35.3 % of eBay sellers earn $10k – $100k per year and over 26% eBay sellers earn $1million – $10 million per year.
More than 182 million shoppers actively buy from eBay. Every second, someone buys a product from eBay. However, many newbie sellers still have no clue how to make money on eBay.
If you want a short answer, then just follow these 7 easy tips to make money on eBay quickly.
1- Do research on eBay fees.
2- Search for a unique product.
3- Come up with a killer title and description.
4- Go for a niche store.
5- Offer top-notch customer service.
6- Get professional photographs of products.
7- Offer free shipping.
However, to cover majors issues of beginner eBay sellers, I have made this comprehensive guide in which you are going to learn the following things.
In the next 15 minutes, all your doubts are going to clear about making money on eBay.
So, let's dive in!
How to Become eBay Seller – Account Setup
Step# 1 – Set up Account on eBay 
Setting up an account on eBay is very straightforward. Just go to eBay.com click register option and start creating your account by entering your email address.
You can set up an eBay account by using a Registration form, Facebook account, or Gmail Account.
Set your password and click on the 'create account' button.
Then, you need to confirm your personal information by confirmation email and SMS code.
Step # 2 – Setup the Paypal Account
Before getting ahead with your eBay seller account, you need to create a PayPal account, if you haven't had one already, to receive payments from buyers and pay selling fees to eBay.
Most of the buyers on eBay prefer to pay via PayPal for purchasing.
To set up the PayPal account just go to PayPal sign up page and provide the following information:
1: Business or personal address
2: Contact number
3: Bank account information
4: Licence or passport image for identification
You can either create a personal account or business account. Both accounts are free to set up except there is a 2.9% + $0.30 per transaction fee in the business account.
I recommend to set up a PayPal business account for eBay transactions.
Step # 3 – Choose the Seller Type
Likewise Amazon, eBay also offers two different seller account,
Personal Account – For individual selling.
Business Account – For selling under a legal entity or company.
If you have any registered business, then go for a business account; otherwise, select the personal account.
To select seller type:
Go to Account Tab → Account Type → Edit.
Step # 4 – Setup Automated Payment for eBay Selling Fees
You'd better set up automated payment to pay for listing fees of eBay so that eBay could do not remove your listing for non-payment issues.
Payment Automation
Go to Account tab → Personal information
Click on Update automatic payment.
It will provide a link, click on that you will be redirected to the automatic payment page. It is recommended to choose PayPal to pay for eBay fees.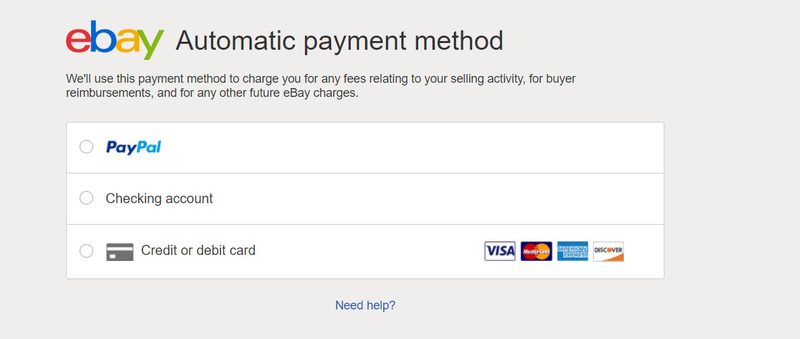 You can also choose a debit card or credit card method.
Select your preferred method and move on to the next step.
Step # 5 – Link PayPal to eBay
Then, link your PayPal account to eBay to receive payment form buyers.
To link PayPal to eBay:
Go to the Account tab → Payments → PayPal account.
Then, you just need to click on "Link My Paypal Account."
You will land on the PayPal login page, where you just need to enter your PayPal credentials to link the account to eBay.
That's it. You are now an official seller on eBay.
7 Tips to Make Money on eBay Easily
EBay is a competitive online marketplace. Nonetheless, you can still make some good money by selling on eBay by following these 7 useful tips.
1- Do the Research on eBay fees
You need to put more time in eBay product fees than on anything if you want to make some good money on eBay. You must have a clear idea about the selling price on eBay before listing any item. Also, whenever you are looking at the selling price, do check out the eBay final value fee and insertion fee of different categories.
For example, Musical instruments have no insertion fees, but industrial products have $20 of insertion fees.
Keep in mind these fees before setting up the selling price for your product so you can get the idea that if your is worth listing on eBay or not.
Check out the eBay fee information on this page. 
2- Search for Unique Products to Flip
Flipping products on eBay is one of the easiest and best ways to make some quick money.
If you do not know the concept of product flipping here is a brief definition for you;
"Buy a product for a low price (from a thrift shop, estate auction, etc.) and sell it for a higher price."
The best way to find unique is to go for trend publication sites like trend hunters and find limited edition products.
For example: Buy limited-edition sneakers on its release on the average price, then wait for its hype and then sell it on eBay auction rates.
Moreover, you can find some eccentric products on thrift shops and sell them for higher prices on eBay auction. A YouTuber HairyTornedo once sold a $1.5 Ralph Lauren short for $100 on eBay. So, it is definitely a proven formula to make some good profits on eBay.
---
Related Article: What to Sell on eBay
---
3- Comes up Killer Title and Description
A good description works like magic to boost sales on eBay. A buyer who comes for bidding on the product is always looking for some x-factor in products that encourage him/her to possess the products, and you can do it with your title and description.
You need to understand the journey of a buyer if they find the exact keywords in your product title that they used to search the product, then most probably they end up buying your product.
Let's look at this listing. This eBay seller has listed one of the most competitive products but uses all the important keywords in its product titles and sold 11 products in just 24 hours.
4- Go for a Niche Store
It might sound strange to go for a niche store on eBay where you cannot sell any item that you want, but a niche store can help you to get in the game of earning a steady income from eBay.
Niche store will help you in getting repeated customers. If you set up a store of something cool stuff like vintage watches collection or selling video games, there is a higher chance that the customers come back to your store to see some new listings.
Most of the top seller store on eBay are niche-based.
Let take a look at this eBay top seller – Thriftbooks (2million+ feedback store).
This store only sells used books at lower rates; it helps them to create a customer base of avid readers who want to buy maximum books at reasonable prices.
Similarly, you can also create a brand on eBay by creating a niche-based store to target a specific audience.
5- Provide the Top-Notch Customer Service
The is an evergreen tip to escalate any business in the world. A customer can forgive a bad product but not lousy customer service. To sell successfully on eBay, you got to respond to every email and, more importantly, respond quickly.
Online buying is still a dilemma for most people; they need complete satisfaction before the product putting into the cart. You must be present and informed about your products, such as the product's dimension, size, compatibility, etc.
The market is very competitive. If you do not get to your customer's question fast, you are sending them to your competitor's store.
Turn on email notification on your mobile phone or check within every hour after listing the products. If you make your store's average response time within 30-60 minutes, then you are going to witness a surge in your eBay sales.
6- Get Professional Photograph of Products
High-quality images are the most significant selling point in the online selling business. The first impression is the last, and your whole product is going to judge based on the photos.
eBay allows adding up to 12 photos in a single listing, so you have the bright chances to grab the customer's attention by showing all the product features in high-quality images.
The product photo should delineate the best features of the item. A white background is ideally used to display the qualities of a product correctly.
Tip: Watch this video to learn to create high-quality DIY product photography.
7- Offer Free Shipping
Online buyers consider free shipping as a massive discount. It is one of the most effective methods to entice buyers in an impulse purchase.
According to buying behavior research, 90% of buyers believe that free shipping is the top incentive in online shopping. Many of the online buyers only purchase when the seller offers free shipping.
So, it is always better to list your product at $25 with free shipping than $20 + $5 shipping.
Best Way to Make Money on eBay (Dropshipping)
If you are a daily visitor of our website, then you must know that we are a fan of the dropshipping model.
Why eBay dropshipping?
Handling and keeping the products is one of the biggest obstacles to penetrate in the ecommerce industry, and dropshipping eliminates those barriers.
You just need to find suitable suppliers for your products, then start listing your products on your eBay account, receive the order, and then tell your supplier to ship the product to your customer.
But, how is this the best way to make money on eBay?
Because it is the most economical way to earn big profits from home with less investment, you only need to pay the supplier when you sell the product.
However, here are some things you must do to become a successful eBay dropshippers
Find a High Demand Less & Competitive Product
The competition on eBay is quite fierce to stand out on this platform you need to shine the brightest with your product's eccentricity. It is better to dodge the competitors, then beating them.
Find the item that is not so common on eBay, but the demand is on the rise.
Be alert on top trend publications websites, watch trends of products, and product review sites to get the most creative product ideas to sell on your eBay store.
Check out this guide to learn 15 killer hacks to find the best product for an online store.
Find Suitable Dropshipping Suppliers
The supplier is your sleeping partner in the dropshipping business. You have to rely entirely on your suppliers to run a successful business on eBay.
Product quality and shipping are the two most crucial elements of selling that is in the hand of the supplier. So, you have to make sure that the product is good enough to sell to your customer.
Here are some key points to evaluate your supplier:
Confirm the worldwide shipping, average shipping time, and fast shipping option.
Order a couple of product samples to analyze the quality.
Ask about private labeling option so you can put your logo and branding on products.
Once you get positive for all the answers, then choose the supplier and tell them all about your dropshipping business so they can make their contribution as well.
Check out 40 Best dropshipping suppliers list.
Analyze the eBay fees and Calculate Profit
EBay is an ecommerce giant that works on its own terms. So, to sell successfully on eBay, you need to understand this platform thoroughly.
The listing tools, sellers fees, and policies might affect your plan of making money on eBay.
Understand the complete eBay fees and its sellers' policies to analyze how ebay works. Every category has different listing fees, so calculate them in your profit before listing the products.
Learn more about eBay Dropshipping in this guide. 
Easiest Way to Make Money on eBay –Dropship From Amazon to eBay
Yes, you can dropship from Amazon to eBay, and it is one of the easiest to make money on eBay.
This method is legal but not preferable by eBay.
If you want to earn some quick money on eBay without any investment, then this is one of the best ways to generate some quick buck in your side hustle. However, if you want to make a brand on eBay, then you'd better follow the seven tips mentioned above.
Here is how you can start dropshipping from Amazon to eBay
1 – Look for a Cheaper Item on Amazon that you can list on eBay with a decent profit margin.  Use drop it extension to compare the price of Amazon and eBay products.
This extension allows you to compare prices and information about a product on Amazon, eBay, Shopify, Aliexpress, and many other marketplaces by image recognition.
2- Go to your eBay seller account and list the Amazon's product, use the product's image, description and title.
3- Receive the order on eBay.
4- Then go to Amazon, buys the product, and enter eBay's customer information so the order can deliver to your eBay customer directly.
But what about Amazon packaging?
Here comes the trick:
When you proceed to checkout on Amazon, mark the order as "Gift." This option allows you to send the product in customize packaging or unmarked box without a receipt.  By doing this, your customer will not find out the real origin of the product.
Learn how to dropship from Amazon to eBay.
Wrapping Up:
There are multiple options to make money online; however, eBay is the most preferred online marketplace of the newbie sellers to some good bucks.
Well, I have mentioned the best ways that can help you to make steady as well as quick income from eBay. Go ahead and try out these tricks and start making money from eBay.